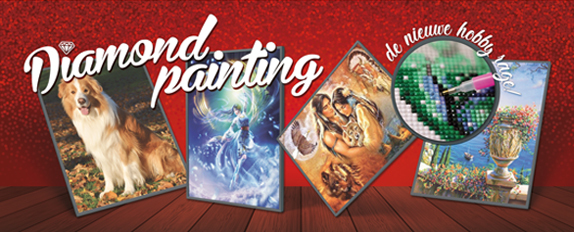 Koop nu Diamond Paintings met 75% MEGA KORTING!
Profiteer vandaag van enorme korting op de volledige collectie Diamond Paintings. U bespaart nu veel geld omdat u voor de laagste prijs en toch premium kwaliteit gaat!
Nooit meer zorgen over lange levertijden. Wij hebben alles in eigen voorraad (NL).
Op werkdagen voor 15:00u besteld, morgen in huis!
Is de orderwaarde €60,- of meer, dan is de verzendig GRATIS!
Wij bieden u diverse betaalmogelijkheden. U betaald gegarandeerd op een veilige en gemakkelijke manier.
NIEUW! Het is bij ons zelfs mogelijk om eerst uw Diamond Paintings te ontvangen en pas achteraf te betalen ("Klarna achteraf betalen").
De Diamond Paintings worden inclusief waxje, pen, werkbakje en ronde steentjes (ruim voldoende) geleverd. Dus u krijgt alles wat u nodig heeft om direct te beginnen met uw Diamond Painting.
Pak nu uw voordeel en ontdek ons geweldig groot assortiment Diamond Paintings tegen de laagste prijs!
Diamond Paintings: de leukste hobby-rage
Met lijst!

Diamond Painting "leopard head"

Deze Diamond Painting is op een kader gespannen van 50x40cm met een harde achterkant. U kan de Diamond Painting direct ophangen als ze klaar is. Deze Diamond Painting met een luipaard hooftd is gemakkelijk om te maken. Met behulp…

€ 140,00 € 30,00

-75%

Diamond painting "Black panther and planets"

Deze Diamond Painting van 40x30cm met een zwarte panter en planeten is gemakkelijk om te maken. Met behulp van een pen plakt u kleine diamantjes op een voorgedrukt en plakkend canvas. Op deze manier maakt u er een prachtig 3D…

€ 60,00 € 15,00
Taalkeuze

Nederlands

English
Winkelwagen
Geen artikelen in winkelwagen.